Poetics of Landness, Poéticas de las Tierras,
Landaktig Poesi
Arely Amaut Gomez Sanchez, Sigrid Espelien, and Stacy Jo Scott

January 25 - January 29, 2022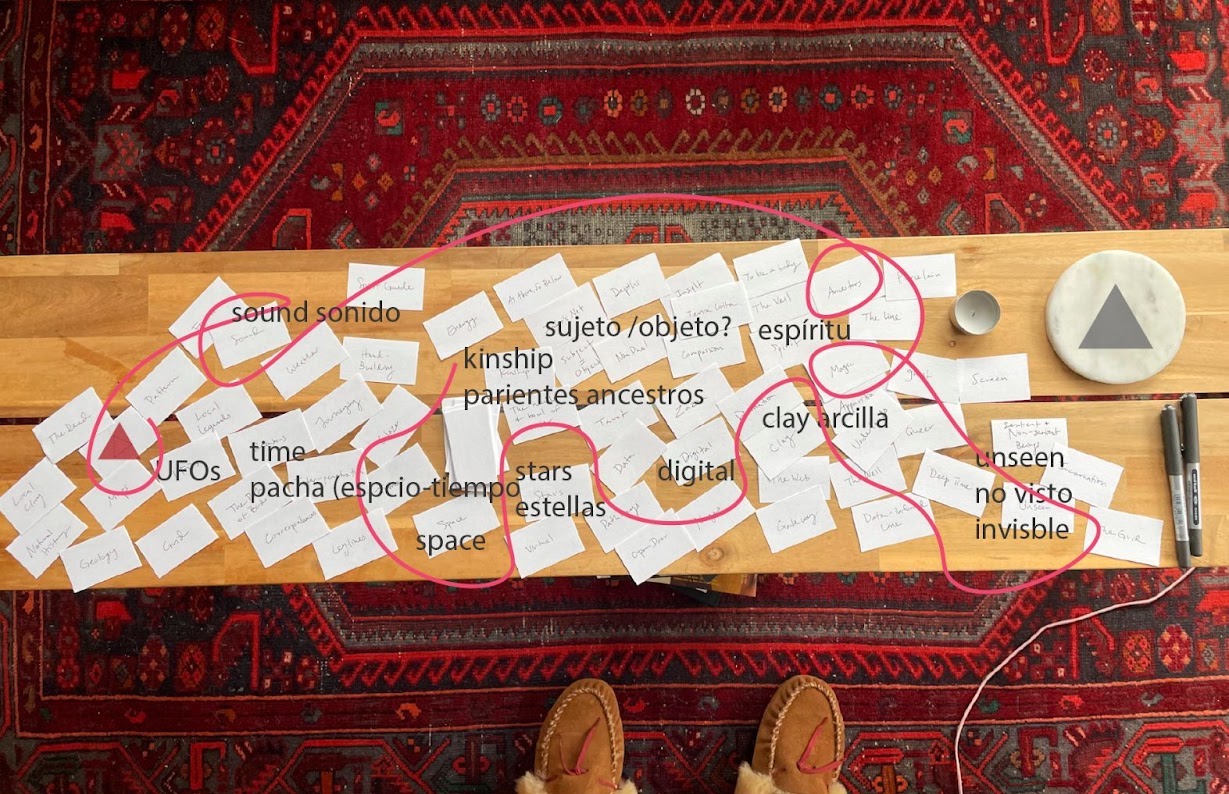 Exhibition Reception
Saturday, January 29 5-8pm
Open Hours
Fri-Sun 12-5pm*
drop in or by appointment
Email
Info@carnationcontemporary.com
to schedule a visit
*Masks required inside the gallery
Online Event
As part of Art and Craft Research Week at Oslo National Academy of the Arts (KHiO), we will participate in a Zoom discussion about our collaboration on January 25 at 9:30am PST. You can join via the link here:
https://khio-no.zoom.us/j/63831923878?pwd=M0M1S0FXVWkydlhyaUExbzRkaW1nQT09
Meeting ID: 638 3192 3878
Passcode: 548799
Exhibition Statement
Poetics of Landness, Poéticas de las Tierras, Landaktig Poesi is a working exhibition and international collaboration between Arely Amaut Gomez Sanchez (Lima, Peru), Sigrid Espelien (Oslo, Norway), and Stacy Jo Scott (Oregon, USA). A concurrent exhibition will run at
Galleri ROM in Oslo, Norway
, and the overlapping activities of each exhibition will be simultaneously shared and broadcast between Galleri ROM and Carnation Contemporary.
Based on an ongoing collaboration between Amaut, Espelien, and Scott, we invite the public to visit Carnation Contemporary throughout the week to witness processes dealing with landness, and experiences of the underground. This exhibition includes video, clay from the places where the three are located, translations through digital fabrication such as 3D scans and 3D printing with clay, audio trance processes, and experimental installations.
Landness is about land in action, in becoming, and is not singular or objective. It contains a multiplicity of beings which are part of this becoming - both seen and unseen, sentient and non-sentient. Together we think through ways that unearthing/gathering clay can be "non-extractive". What does it mean to gather but not to take? How does one land differ from another? Is it only the minerals contained in it? Why would one land/clay be better than another? What does this have to do with the classification given by social power structures?
We consider the ways in which earth, soil, and mud are ancestral beings that bring critical venues for exploration that might help us to listen, remember, and embody. Together we consider the potential of land and creative practice to disrupt the very basis of modern representation and ongoing colonial systematic violence.
Bios
Arely Amaut Gomez Sanchez
(born in Cusco, Peru) is a mestizo woman, part of the Quechua Indigenous community. She is a reader, visual artist, graphic designer, architect and remembers the ancestral-digital study. She intersects Andean-Amazonian cosmology, training in architecture, and the embodied study of the principles applied in the Andean ancestral architecture to share the study: "Remembering the future." She conceived in collaboration with the community of Quebrada Verde in Pachakamak the "Radio Apu" (Apu is a Grandfather or Grandmother, the sacred mountains). She collaborates with Sigrid Espelien (Oslo), Tatjana Kolpus (Sámi), Irma Alvarez Ccoscco (Quechua) in the ongoing project "Collective Thinking Machine" "Mapping the unseen" with Liisa-Ravna Finbog (Sámi), with Valentina Desideri and Denise Ferreira da Silva in the "Sensing Salon."
Collectively Arely questions the hidden structures that predetermine our social and political imagination limits. She accompanies processes of repositioning Ancestral memory and embodied practices by remembering that we are interconnected beyond separation and linear time. Remembering that we are the Land, clay, mud, Pacha (space-time). Remembering the Land, the Mountain, the River, as pedagogy, Ancestral tools of healing, reading (oracles), and poetic speculation. Remembering, they create diagrams, videos, drawings, texts that explore decolonial possibilities of imagining and tools to deal with the ancestral forgetfulness and alienation produced by Modernity to rehearse different types of beings beyond the modern subject (Da Silva, The Global Idea of Race). She holds a Master's degree in Art and Public Space from the National Academy of Arts in Oslo. She is currently a Ph.D. student at The Institute for Gender, Race, Sexuality, and Social Justice at the University of British Columbia.
Sigrid Espelien
is an artist and a PhD fellow in artistic research at the Art and Craft department at Oslo National Academy of Art. From 2013 she´s been working with the blueclay in Oslo and Norway that she found in construction sites, river beds and landfills. The clay contains stories of city development, geology, archeology, industry and sci fi speculations. Her research project "Grounding with blueclay" is about connecting with clay as something more than a material for art production but also as land, soil and territory. She´s looking at ways of reading the blue clay through the site, the body and technology.
Stacy Jo Scott
is an artist and currently an assistant professor at the University of Oregon. She uses ceramic objects and digital processes as anchors from which to navigate shifting landscapes of queerness, embodiment, and spectrality. These objects emerge from research, digital processes, trance practices, and chance operations. Her work revolves around imaging the ephemeral body and speculating on queer lineages and futurities. The speculative nature of her inquiries is grounded in confounding the relationship between clay's materiality and the supposed purity of machinic code. Stacy Jo explores how digital media renders embodiment, and how computational tools can be used to convey illegible histories or mythic futures. She employs the more ancient skills of hand-working clay alongside generative software tools, unorthodox 3D printing, and CNC hacks. The idiosyncrasies of clay interrupt the numeric logic of the machine, looping it back into a queered transient world of direct embodied experience.